Who We Are
We make strategies, design & development
to create valuable products.
Capabilities
Creative studio with art & technologies.
01.
Full-stack Enterprise
Media Management
We are a complete enterprise dedicated to providing inclusive solutions that cater to all your technological and business requirements.
With our profound expertise in media management, we present a well-rounded strategy that encompasses every facet of managing your media content.
03.
Google Analytics & Measurement
Google Analytics serves as a web analytics tool that assists us in comprehending how visitors engage with our site. It furnishes valuable information about user actions, likes, and audience characteristics.
Respecting your privacy is crucial to us, and we aim to make sure you fully grasp how we employ Google Analytics and similar measuring instruments to enrich your journey on our website.
02.
UX/UI Design & Website/App Design
We love crafting amazing user experiences using advanced UX/UI design and creative website/app solutions.
We're thrilled to demonstrate how our skills can turn your online presence into a smooth and captivating adventure for your visitors. Get ready to discover how we can enhance your digital footprint!
04.
Marketing Campaigns & Content Creation
Welcome to Tendou, your partner in driving business growth through strategic marketing campaigns and captivating content creation.
We're excited to share how our expertise can help your brand stand out in the digital landscape.
Approach
We're changing the way people think of UI/UX creation.
We've established a comprehensive workflow process that covers all aspects of our operations. Starting from the early days of the century, we've transformed challenges into opportunities and turned setbacks into positives.
Feel free to explore how our structured approach can benefit you!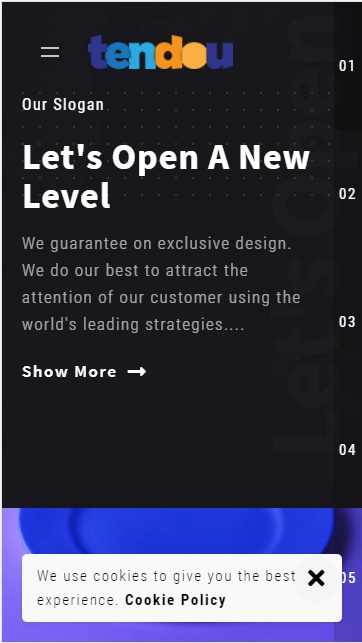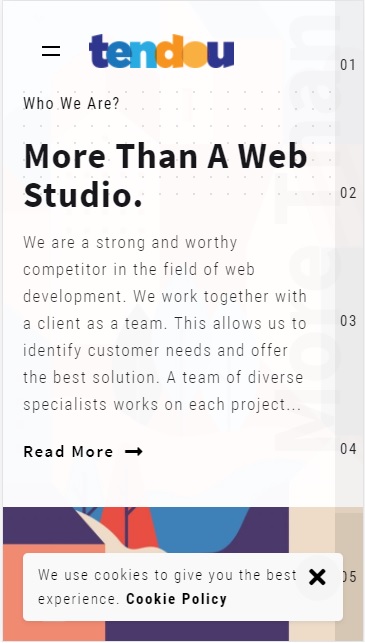 Statistics
Project by the numbers.
Creating a full range UI/UX apps accross the whole platform.
Software-enabled platforms to completely change the way of UI/UX iterations.
We have strict intentions to completely change the way of UI/UX creation.
Website & Mobile App Design

0

%

Creating a portfolio budgeting in a real time planning and phasing.

Get an utilized of structure to tackle.

A higher spacing and movements through an impactful email campaigns.
Statistics
We believe that people are essential.
Working in the fields of UI/UX design and art direction.
Website & Mobile App Design
Elevate your online presence with our cutting-edge Website and Mobile App Design services. Our expert team combines artistic flair with user-centric functionality to create digital experiences that captivate and engage.
Motion Graphics & Animation
Ignite your brand's storytelling with our captivating Motion Graphics & Animation services. Our skilled team brings concepts to life through dynamic visuals that leave a lasting impact.
Ready to create experiences that resonate? Our User Experience services focus on delivering value to both your audience and your business. Contact us today to embark on a journey of user-centric design.
Let's Collaborate
Ready to
work with us?